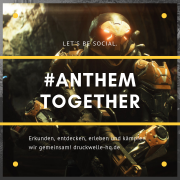 About This Club
DRUCKWELLE Anthem. Club zum Austausch und gemeinsamen Spielen vom neuesten Werk von Bioware.
---
What's new in this club

Flexiz

joined the club

MightyOwl

joined the club

Die Com bleibt sehr gewitzt....

heidewitzka was da bei bioware abgeht..... aber scheint ja in der kompletten Industrie so zu sein bis auf ausnahmen....

die traurige wahrheit, leider. wenn man den release verkackt und dann in den ersten 4 wochen JEDEN patch verkackt.... sollte man sich überlegen ob es richtig ist spiele zu programmieren oder ob man dazu übergehen sollte brettspiele zu basteln Edith meint: 3. verkackte Game in Folge nach SWToR und Andromeda

endlich auch in deutscher schrift https://www.ea.com/de-de/games/anthem/news/inscriptions-in-anthem

waffen sind soweit ich weiß rnd. heisst kannst du in allen aktivitäten bekommen. vor GM1 sind allerdings nur 5 der MW-Waffen im Lootpool

ma was anderes, oder auch nicht ganz anders: wo bekomme ich eigentlich masterwork waffen her ? ich hab mit level 28 rum per zufall mal eine "fist of stral" bekommen. die ist aber leider nur level 58 weil ich zu dem zeitpunkt eben lvl 28 war. im anderen slot habe ich immer noch eine lila sniper, nichts ausser TONNEN von lila bekommen seit dem. der rest von meinem colossus ist komplett in MW, bis auf support. problem ist, die fist of stral macht leider trotz ihres super dmg perks kaum schaden, wohl weil level 58. ich brauche fast ein komplettes magazin (157 schuss atm) um so einem nervigen fliegenden storm den schild wegzuballern. dann fällt der zu boden und ich krieg noch ein paar wenige schuss rein bevor mag leer ist. bis ich dann releoded hab schwebt der wieder, mit vollem schild, jetzt mit 90%hp anstatt 100%. das geht so gar nicht, da brauch ich auch nicht über GM2 oder GM3 nachdenken, wo ja jetzt die droprate erhöht wurde. schaden mache ich immo eigentlich nur mit gear und melee.

Pünktlich zum Launch von Division.. ein schelm wer böses dabei denkt! https://www.ea.com/games/anthem/news/update-031519?utm_campaign=anth_hd_ww_ic_soco_twt_anthem-loot-blog&utm_source=twitter&utm_medium=social&cid=57445&ts=1552675855153&isLocalized=true

Wenn Harvest Gear nur ein Bug wäre nice. Habe mich echt gewundert...240% Harvest Bonus und keine Masterwork Ember mehr gedropt.....

Since I'm the one that primarily puts together the patch notes I do want to say that I never leave out anything intentionally. I work with a lot of people here at BioWare to ensure the notes are as comprehensive as possible. If we ever miss something in the notes (and we will) please do point it out so that I can get the necessary information from the team to get the patch notes updated. Now for your bullets you pointed out that we're missing: Lowered the drop rate of high-end Embers from Harvesting I have confirmed this was a bug and the team is working on fixing it as I type this. Drop Rates on Masterwork Embers should go back to what they were prior to the 1.0.3 update. Significantly increased the requirements to complete Path of Glory Monthly Rewards (requiring even more Daily/Weekly completions) I'm following up on this one with the team right now, will share more details as soon as I have them. Significantly increased the overall damage of Legendary items, while keeping Masterwork items the same I'm going to follow up on this one with the team as well.

hier mal ein nettes video was noch alles geändert wurde (gewollt/ungewollt?) von dem aber nichts in den patch notes stand

Das klappt leider auch nicht mehr, der Beitrag ist ja auch schon "etwas" älter(2-3 Tage oder so). Und so schnell, wie die das Lootverhalten patchen, ist mein Rechner nicht mal an.

@tdkoe-descander Strongholds eignen sich laut dieser Quelle am schlechtesten zum farmen für Legendäre. https://www.reddit.com/r/AnthemTheGame/comments/ayl0ip/ive_had_44_legendaries_drop_in_50_hours_heres_why/

Das mit der Droprate ist einfach nur noch ein Trauerspiel. Wir ham heute im Freien Spiel auf GM3 bei nem verk*ckten Über-Titan nur Epic-Drops gehabt, während irgendein verk*ckter Auftrag nen verk*cktes MW gedropt hat...hat BW sie noch alle? Ich könnte inzwischen den ganzen Server mit Epics zuflastern, bloß will die keiner, ich schon garnicht, da die mir keine Qualitätssteigerung mehr bringen. Und das die Schnellspieler schon alles "Wichtige" haben und der Rest nicht mehr aufschließen kann, ist einfach nur unter aller Sau.

"We appreciate all the feedback from the community on the game. We love the passion and share it. We're not yet fully happy with the game's loot behavior either. One of the downsides of moving so fast to improve is that we're making changes to complex loot systems in several areas and it's then harder to know how it's performing. In the next few months, we're expecting to make significant changes, but we're starting with some incremental ones so we can better navigate that evolution. Our goal is to ensure the best possible player experience." Chad Robertson (Head of Live Service @BioWare) und bis sie dann wissen, was sie tun wollen und das dann auch noch umgesetzt haben, spielt kaum noch wer Anthem. Ich sehe es doch schon in meiner Alliance-Gold-Seite. Kaum noch wer aktiv. "expecting significant changes" - in 5 Jahren? Mit dem nächsten großen Story-DLC in 5 Monaten? GEGE "incremental ones" - noch langsamer geht kaum.

tjoa keine ahnung was bioware da gerade fabriziert. dropchancen sind halt unter aller sau. 5 strongholds... je 1 masterwork am ende (100% drop) alles schrott zum zerlegen... ich mein.. aufgrund der perks sind die items eh zu 98% schrott... so wird dat nichts ....

Jo so ganz sicher sind sie sich wohl nicht

tl;dnr: der loot war als er (mal wieder buggy war) gut- jetzt suckt er halt wieder. dazu die reddits threads dazu ------------------------------------------------------------------------------------------------------------------- scheint ja zu laufen bei Bioware die wollten Feedback, hier haben sie welches. warum wird die droprate nicht erhöht? die Meinung ist recht eindeutig in DIESER Anthem Community

Habe vorhin nur 1 Lila Auftrag gemacht..direkt 1x Geld 3x Orange...leider aber alles Crap 🙂 Hoffe die fixen beim Ranger noch die Mods mit Blast/Impact DMG.

sieht soweit erstmal gut aus. ersten neuen bug hab ich leider bei den storm komponenten schon gefunden. mal des revolverhelden funktioniert ja nun dank patch. dafür fehlen die 5% feuer bzw eis dmg auf mal des untergangs und amulett des frosts. irgendwie haben sie auch die icons der beiden komponenten vertauscht 🙄

Ich wills mir am Wochenende noch mal nach dem Patch anschauen. Liest sich gut

da wurde wirklich viel zeugs gefixt was mich generft hat, sauber.

@Steppi Patch wurde auf 9.3 vorgezogen. Hey Freelancers, Below you will find the update notes for all of the fixes and improvements that the team has been working on. The current plan is for patch 1.0.3 to go out between 7am and 9am Central Time on March 9th. Everyone here at BioWare is already hard at work on the next update to continue making Anthem better with each patch. We thank you for all of your feedback, bug reports and support! Strong Alone, Stronger Together! -Jesse (@Darokaz) High level fixes and changes Respawn restrictions have been removed - Respawn timers are now based on the activity a player is in. Crit-Path, Agent Missions and other non-end game missions now have a respawn timer of 10 seconds. Strongholds, Legendary Contracts, and other end game missions now have a respawn timer of 30 seconds. The respawn timer Freeplay remains unchanged. Loot Changes - Common (white) and Uncommon (green) drops will no longer appear for players that are level 30. Improved stability for all platforms - this includes fixes for a number of issues that were causing crashes or connection problems Audio Improvements - Fixed a number of issues that could cause audio to drop out General Fixes and Improvements Fixed a number of issues that were blocking players from accessing the Forge All missions should now properly end when all conditions have been met The inbox now properly displays information on PC (the inbox is found in the newsfeed) Fixed an issue that would cause players to be unable to interact with NPCs in Fort Tarsis The vault is no longer accessible from the Forge. This change was made to improve performance Fixed an issue that would cause the game to hang when entering menus while on an expedition Titans will no longer respawn on missions after they are defeated. Example: if players defeat 2 out of 3 titans and then wipe on the third, the first two will not reappear when players respawn during a mission Server shutdown messages should now appear less often The ability to Quickplay into a Stronghold has been added back to the game Mouse button 4 is no longer bound to the back button for PC players Crashes that occurred while selecting certain conversation options when interacting with an NPC have been fixed Players should no longer get stuck at the end of the "Tomb of General Tarsis" mission Players should now run into less issues during Quickplay missions. Additional improvements to Quickplay will be coming in future updates Players should no longer get stuck behind fogwalls on missions or in strongholds as often Players should now receive credit for the "There Be Giants" challenge when they are downed and when the event is active Improved the audio when defeating creatures to provide better feedback Changed wording for server shutdown messaging to better indicate that it is just the players server shutting down, not the entire game server Players may now launch an expedition from anywhere within the launch bay and Fort Tarsis. PS4 led lights will now change based on the javelin being used It should now be harder for players to get stun locked by certain enemy compositions The values on max flight time inscriptions have been increased The appearance of the N7 vinyl on Legion of Dawn armor has been improved Haluk will now properly face players during certain dialogue scenes The message "Open the Cortex to track the legionnaire Challenges" will no longer pop up after completing the appropriate challenges Strongholds Fixed an issue that would cause players to get stuck at the entrance to the sewers in the Temple of the Scar Stronghold Creature Updates Titans: We have made several balance changes to all variations of Titans Reduced overall damage mitigation from 100% to between 70% and 75% depending on the damage type. Increased the time that weakpoints are exposed. Fixed an issue that prevented effects from applying and thus preventing combos. Increased the damage the Titan takes from weakpoint hits. Lesser Titan's weakpoint's have been changed to always be active. Improved the collision on the ring and seeking projectile attacks. This should make them easier to dodge. Decreased the radius of the seeking projectile attack. Decreased the damage done by the self-destruct ability. Frozen Scar Enforcers and Scrappers can no longer move or attack while frozen. The Monitor's health has been greatly reduced in the Heart of Rage Stronghold. Force Players will be less likely to be repeatedly staggered by heavy attacks. Adjusted the force applied by some creature attacks down which will lower the frequency of player's being staggered. Damage and Item Scaling Changes Adjusted the damage scaling of secondary damage sources. These now scale with Average Item Power. This will allow these damage sources to better scale in the Grandmaster Difficulties. This will increase the scaling of the following: Melee Damage Combo Damage Ultimate Damage Status Effects Item Procs (e.g. Proc from Yvenia's Thunder) Item Power scaling has changed to better reflect the actual power of the item based on its rarity. This is applied to all items retroactively. Players will see the Power of their items go up. Gameplay Bug Fixes The Ultimate ability bar will no longer appear full at the start of a mission when it isn't actually full Weapon recoil will now stop once an exo is looking straight up Fixed a number of animation issues that could occur when the Colossus was using its shield It should no longer be possible for the Interceptor to become Frozen while starting up their ultimate Interceptor Aura damage will now deal the correct type of damage based on the active aura Players can no longer equip abilities from one javelin to another The Colossus can now use gear faster after being attacked by a heavy hit from enemies The Colossus can now shield charge through destructible objects such as explosive canisters or harvest nodes The Colossus now recovers faster after crashing into walls Item Balance Updates Increased the base health of Wind Wall and Bulwark Point to provide better scaling in higher difficulties. The duration of these has been reduced to 20 seconds, down from 60 seconds Burst Mortar's damage has been increased to 300, up from 145 and its cooldown has been reduced to 6 seconds, down from 10 seconds. Its description has also been fixed Flak Cannon's damage has been increased to 42, up from 30 Battle Cry's description has been updated to explain that it also reduces the resistances of affected targets Wraith Strike's damage has been increased to 250, up from 200 and it will now apply elemental effect to targets based on the active aura Note: Description text for Wraith Strike will be updated in 1.0.4. Item Bug Fixes Wind Wall should no longer block or interfere with other player abilities Ranger Grenadier Component will now correctly lower the cooldown of grenade abilities Fixed an issue where certain weapons were not firing where the crosshairs were aimed The Ice Blast ability for the Storm javelin now has the primer icon correctly displayed Inscription Bug Fixes The Thruster Delay Recovery inscription is now correctly applying a bonus The Overheat Delay Recovery inscription is now correctly applying a bonus The Weapon Reload Bonus inscription is now correctly applying a bonus Note: These will have non-updated text values until the next patch (1.0.4) Masterwork Item Balance Updates Increased the base damage of the following Masterwork Weapons. Ralner's Blaze Rolling Carnage Cycle of Pain The Last Stand Glorious Result Insult and Injury Sentinel Vengeance Gnosta's Balm Vassa's Surprise Soothing Touch Renewed Courage Artinia's Gambit Masterwork Item Bug Fixes Ralner's Blaze - Will no longer roll with incorrect inscriptions Ablative Shielding now provides the proper boost in shield and armor Badge of Devastation will now generate more ultimate charge when triggered It should no longer be possible to stack the effect from Gunslinger's Mark more than once In addition to the above updates, we wanted to let you know of some other known issues that the team is working on fixing: When loading into the game for the first time after a patch the Shields and Armor on a javelin will be incorrect. The first time a player enters and exits Freeplay or any other activity the issue will fix itself. Players are not receiving their level 20 Match Consumables. Players were granted item blueprints instead of the recipes when they hit this level previously. Some players may experience audio crackling while in Fort Tarsis. There may be some instances where players are unable to quit out of a Quickplay mission through the map UI. A number challenges may not be tracking properly, such as the objectives under the "Legendary Freelancer" challenge. Some players may encounter a bug where they are unable to interact with any objects or players. Visual effects on javelin thrusters are not functioning properly while stormy weather is present in game. Inactivity messages may not be able to be dismissed after a player returns from being away. There are a number of Origin error messages that some PC players may encounter, including Origin showing that it is offline when it actually online. The UI may not display events for some players when an event has spawned nearby in Freeplay. There is a bug where armor pips can change in between activities. This is both a display and gameplay issue.

kann ich absolut verstehen. ich bin nun erstmal auf den patch am 12. gespannt und die dazugehörigen patchnotes, auch wenn vieles schon bekannt ist und dann mal abwarten was sie in den nächsten 2 monaten so liefern. es MUSS content ran und events wie es versprochen wurde! (ist aber soweit bekannt in arbeit)

Also ich fand Anthem jetzt 2 Wochen lang richtig gut. Frisches Gameplay und die Crashes hatte ich schnell im Griff (2. Monitor aus dann waren die Crashes weg). Allerdings muss ich sagen, dass ich nun nach einer Woche auf level 30 schon kaum noch Motivation finde einzuloggen. Mein Interceptor ist bis auf die Waffe schon komplett in MW und GM1 ist keine Herausforderung mehr. Alles über GM1 lohnt sich schlicht nicht und von der Mine mal abgesehen lohnen sich auch die anderen Strongholds leider gar nicht. Also bleibt mir aktuell nur mich einzuloggen, meine Contracts und paar Runde die Mine du machen, um auf bessere Rolls zu hoffen. Das ist aber leider nichts was mich wirklich fesselt... Für mich persönlich muss ich daher also leider sagen: Die 15€ für Origin Access bereuhe ich nicht, die haben sich gelohnt. Doch leider wurde hier sehr viel Potenzial verschenkt und das Spielt wirkt wirklich "klein" für die Entwicklungszeit die dort eingebracht wurde. Schade, das Gameplay rockt und das Spiel ansich macht Spaß, aber so arg wiederholende Aufgaben nach bereits 2 Wochen Gesamtspielzeit (mit so 2 Stunden am Tag, mehr Zeit habe ich nicht) bremsen die Motivation dann doch sehr schnell.