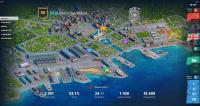 DRUCKWELLE sucht noch eine handvoll Kapitäne um unsere eigene Base auszubauen und unsere Reihen für zukünftige Clanbattles zu stärken.
Falls du schon DW Member bist reicht eine PM an Syreal und schon bist du dabei.
Falls nicht Bewerbt euch einfach im Funteam.
In The Navy were we fail the seven seas.