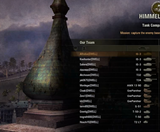 Geschrieben von: swisstex   
Freitag, den 02. November 2012 um 20:20 Uhr

Geschenke nur zu Weihnachten? Nicht bei uns! DRUCKWELLE verschenkt ab sofort 20x einen original World of Tanks "Invite a friend"-Code. Mit diesem Code wird Dein Einstieg in die Welt der actionreichen Schlachten ganz einfach gemacht: 3 Tage Premium Level geschenkt und zusätzlich noch 1000 Gold für Deine Einkäufe im Shop.
Wenn Du also noch nicht auf den grossen Panzer-Schlachtfeldern unterwegs bist, oder Deine Freundin ein neues Game sucht, dann wird es höchste Zeit! DRUCKWELLE fährt seit Beginn als Clan und Kompanie mit und kann mit Rat und Tat zur Seite stehen. Einfach bei uns im WoT-Team reinschauen und mitspielen. Auf geht's PanzerkommandantIn, Code besorgen, Client laden und ab geht die Panzerpost!
Einfach eine Mail an swisstex@druckwelle-hq.de mit dem Betreff: Ready to roll out!
Pro Spieler ein Code. Der Code ist nur für einen neuen Account verwendbar und läuft Ende Dezember aus. Der Code ist natürlich nur einmal verwendbar und darf nicht verkauft werden.
Neue Freunde, neuer Code, neue Panzer. Lock'n'load. Roll out!