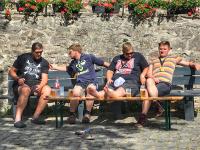 Was war das nur für ein geiler Samstagabend! Präsentationen und Videos von verschiedenen Teams, fröhliche Stimmung, viele Geschenke und eine hammermässige Show! Die Präsentatoren haben alles gegeben, die Cosplayer mal wieder den Vogel abgeschossen. Verpasst? Tja, selber schuld.
Ein klein wenig kann ich allerdings lindern. Wie die letzten Jahre auch, publizieren wir alle Videos auf unserem DRUCKWELLE Youtube-Kanal. Damit auch die Daheimgebliebenen in den Genuss von Action, fettem Sound und der absolut unglaublichen Kreativität kommen. Stellt euch einfach die riesen Leinwand und die fetten Boxen vor, mit denen wir den Sound in den Hof der Burg haben krachen lassen. Aber so richtig mit Bums!
Jeweils am Samstag wird - jede Woche - ein weiteres Video freigeschaltet. Euch erwarten folgende Highlights:
Opening

Planetside 2 - Wir zeigen den Weg
World of Warcraft - The Restart
War Thunder - Final Battle
World of Tanks - WoT-2019
World of Tanks - Mordemeyer
Monster Hunter: World - Ein Jäger muss jagen
Beta Trailer
Damit ihr schon einmal reinschnuppern könnt, gibt es das Opening als Anschmecker im Voraus. Ich wünsche euch im Namen von allen kreativen DRUCKWELLE Filmemachern und Produzentinnen viel Spass!
Euer Swisstex
Edited by Swisstex