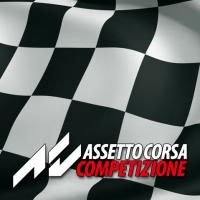 About This Club
Du hast Benzin im Blut. Reifen sind für Dich schwarzes Gold. Dann bist Du hier richtig! In Assetto Corsa Competizione am Steuer namhafter GT-Rennautos wird um jedes Zehntel gekämpft.
---
What's new in this club

Anderes Farb-Design mit hellem Logo.

So mal eins der einfacheren.

Schöner Skin! Aber DW-Logo an den Seiten gefällt mir weder von der Farbe, noch der Position. Kleiner und in weiss auf dem roten Streifen kurz hinter der Tür.

Hab den McLaren fertig! Für Änderungen oder Vorschläge bin ich immer offen (naja eigentlich nicht) 😁!

Art

joined the club

Ein Vorschlag für die #Team-Lackierung:

Wir haben einen eigenen ACC-Server: Unter Mulitplayer einfach nach Druckwelle (ACC) suchen. Das Passwort lautet: dw Zuschauer-Passwort: dwz Im Moment gibt es noch einen weiteren Druckwelle (ACC - Training) Server. Passwörter sind identisch mit denen des anderen Servers. Strecken können auf Wunsch geändert werden.

dongroove

joined the club

Syreal

joined the club

Malec

joined the club

Zosh

joined the club

Wenn Du Lust hast mit anderen ein paar Runden zu drehen, dann melde Dich hier.