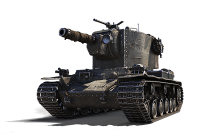 Er ist eine der größten Ikonen in World of Tanks! Er wird von allen Gegnern gefürchtet und von allen Teammates gefeiert. Er ist groß, er ist hässlich und er ist langsam! Er verschießt 53-OF-530 Sprenggranaten vom Kaliber 152 Millimeter! Und wer bis jetzt nicht weiß von welchen Panzer hier die Rede ist schläft vermutlich auf Bäumen! Die Rede ist natürlich vom KV-2!
Und mit genau diesem todbringenden Monstrum wird sich DRUCKWELLE im Rahmen eines Fun Events in die Schlacht stürzen, und-zwar AUSSCHLIESSLICH mit dem KV-2!!!
Am 24.11.2018 entfesseln wir das Armageddon in World of Tanks. Dabei werden wir uns die Tatsache zunutze machen das der KV-2 die meisten meta Panzer auf die er trifft mit einem einzigen Schuss entsorgen kann um an den Spieler der im laufe des Abends die meisten Abschüsse erzielt einen kleinen Preis zu vergeben.
Richtig gehört es gibt etwas zu gewinnen, also Staubt euren KV-2 schon mal ab, poliert das Geschütz nochmal auf und sammelt Granaten, denn das wird hässlich!
Es Informierte sie
Front-Reporter Fungh