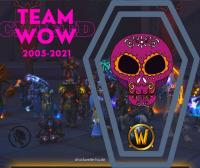 Das DRUCKWELLE World of Warcraft-Team wurde per Ende Mai aufgelöst und die Gilde geschlossen. Dies, nachdem vor fast genau einem Jahr die neue Gildenleitung übernommen hatte. Leider fanden sich keine Nachfolger für die Organisation und Führung der Gilde. Natürlich verbleibt einer unserer Twinks (Hiero) dort um den Namen zu schützen. Wir werden aber keine Member mehr einladen etc.
Im DRUCKWELLE Teamspeak sind - für unsere Gelegenheitspieler*innen - unter Clubs noch Kanäle für WoW-Spieler*innen vorhanden. Austausch im Forum hier. Für World of Warcraft Classic gibt es einen Club.
Auf bald, in welcher Welt auch immer!