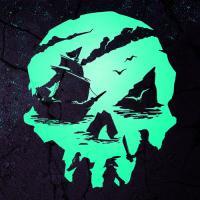 About This Club
Für alle DRUCKWELLE Piraten!
---
What's new in this club

Man achte Ingame auf die Täglichen Aufgaben und auf die neuen Events die kommen. Aktuell läuft ein Angel-Event indem man 300 rote panschies angeln muss und ein 3 teiliges Schnitterknochen Event! Man kann natürlich auch im Event-Hub gucken! https://www.seaofthieves.com/de/event-hub

Kugelfee

joined the club

@Ragsan und @Steppi inklusive der des Xbox-Erfolgs für das Abgeben einer Truhe in der Arena wenn man betrunken ist. Schade das man keine 15 Minuten, also 1 komplette Arena Runde im nachhinein aufnehmen kann.

Auf auf Piraten. Meldet euch für Freitag an! Je mehr wir sind je lustiger wirds!

Am 20.6. und 21.6. findet auf dem Offiziellen Sea of Thieves Discord für Deutschland ein Fight Club Liga Event statt. Wir als offizieller Clan DRUCKWELLE sind verpflichtet an diesem Event teilzunehmen! Meldet euch bitte bei mir per PN im Discord oder Forum wer Lust und Zeit hat!

UPDATE: Aufgrund zu geringer Teilnehmerzahl Heute werden wir das Event auf nächsten Samstag verschieben. Daher neues Datum: 29.05 (Freitag) 18 Uhr

Moin ihr Landratten! Diesen Samstag findet bei uns das erste Ingame Event statt um zu testen ob so etwas auch in Zukunft eine interessante Abwechslung zum Freibeuter Alltag bieten könnte. UPDATE: Aufgrund zu geringer Teilnehmerzahl Heute werden wir das Event auf nächsten Samstag verschieben. Daher neues Datum: 29.05 (Freitag) 18 Uhr Hier die Eckdaten: Wann? Samstag 23.05 - 18:00 Uhr Wo? Teamspeak (Sea of Thieves Channel) Was? Es gibt eine Schnitzeljagd wo Teams aus maximal 2 gegeneinander kleine Rätsel und Wettkämpfe bestreiten. (Die genauen Aufgaben sind natürlich noch Geheim) Ich hoffe ihr erscheint zahlreich! ps. wir werden eventuell auch ein kleines Video daraus schneiden

samstag abend würd bei mir gehen.

wollen wir am samstag abend mal versuchen nen probe event zu machen? mal ne schnitzeljagd und nen rennen?

man könnte auch seine eigene Schatzsuche zusammen stellen. braucht zwar etwas Vorbereitung, aber dann ein riddles fertig machen. so pennpaper mäßig.

PatienTT

joined the club

Ich fände von deinen Ideen das Sloop rennen glaube ich am witzigsten Ansonsten würde ich noch eine "Schnitzeljagd" in den Raum werfen, Man startet mit 2er Crew Sloops bei K12 und dort bekommen dann alle zb die Aufgabe "bringt mir 3 goldene Hühner" und dann müssen alle losfahren (wie und wo sie das machen ist ihnen überlassen) und wer zuerst mit 3 goldenen Hühnern ankommt gewinnt die erste Runde. Müsste man nur überlegen ob mit oder ohne PVP, ich glaube ich würde ohne machen da das sonst eskaliert XD Man könnte da verschiedene Runden machen, erste Runde bringt mir kA 3 Hühner, nächste Runde wäre zb ein Rätsel oder bringt mir ein Sprenpullverfass kA

Ahoi Piraten. Was haltet ihr von Events intern die sich ein wenig vom normalen Spielalltag abheben? z.B. Pirate Fight Club - Duelle mit Schwertern only (auch andere Waffen möglich) oder Sloop Race - Wettrennen auf Solo Schaluppen ??? Bock drauf ??? Es sind natürlich auch endere Events möglich, also wenn ihr da gute Ideen habt, immer raus damit! Dem Gewinner winkt natürlich ein kleines Säckchen für den Echtgeld-Ingame Shop.